Red Hook Crit - London
Ever since I saw Lucas Brunelle's Line of Sight documentary two years ago I've been quite fascinated by fixed gear bikes. Although I imagine that some of my subscribers are unfamiliar with the concept, so let me explain it before I get into the story of my latest adventure.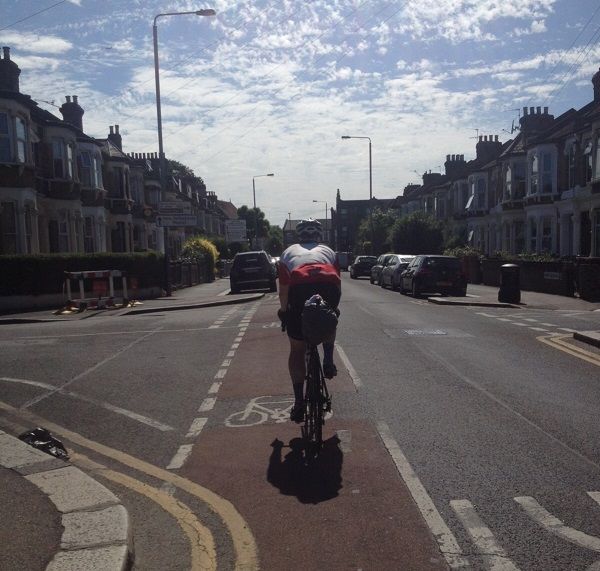 An introduction to fixed gear
Ever since I saw Lucas Brunelle's Line of Sight documentary two years ago I've been quite fascinated by fixed gear bikes. Although I imagine that some of my subscribers are unfamiliar with the concept, so let me explain it before I get into the story of my latest adventure.
A fixed gear bike is a bike that has no freewheel or the possibility to coast (you can't stop pedalling mid-ride). So you have to keep pedalling constantly but to slow down you have gradually stop your momentum using your leg muscles. Of course you can use a regular brake to aid this and there are techniques to stop without a brake. Now you know somewhat of how fixed gear bikes work. Try to imagine going 45 km/h (27 mph) and then having to slow down for a corner without any brakes besides technique and legs. As you can see fixed gear racing is another level altogether.
Friday - Road to London
A few months ago a friend of a friend (Saskia) posted the idea to go to Red Hook Crit in London. Red Hook is a fixed gear criterium. Criterium is a one-day race on a circuit, crit for short. Originally held in Red Hook, Brooklyn, New York, New York, United States. Which of course was originally settled by Dutch colonists and named Roode Hoek due to the red clay and shape of the land. Although still held in Red Hook, Brooklyn it has also been organised in Milan, Italy and Barcelona, Spain over the years. This year however it would also be held in London for the first time and as I really really like London it seemed to be a no brainer for me to go.
If you have the time watch this rather nice video about the origins of Red Hook and bicycle infrastructure in general Genre de Vie.
Soon enough we had agreed to go by ferry from Hook of Holland to Harwich so we could bring our bikes along, cycle from Harwich to London and seeing the British countryside. Originally Eric, the guy that actually would be racing the Red Hook Crit, was going to cycle that part too but after the ferry crossing he changed his plans. Probably a wise choice for which I couldn't really blame him. He needed fresh legs for the crit the day after and cycling 140 K on a fixed gear bike with a ratio of 52x18 while cycling over rolling hills isn't that smart, the train seemed to be a far better idea. Saskia however still wanted to cycle the route, for which I was really thankful, however we first needed to fix her pannier carrying system which was being a nightmare. The normal straps didn't work at all so we opted to go for a proven alternative.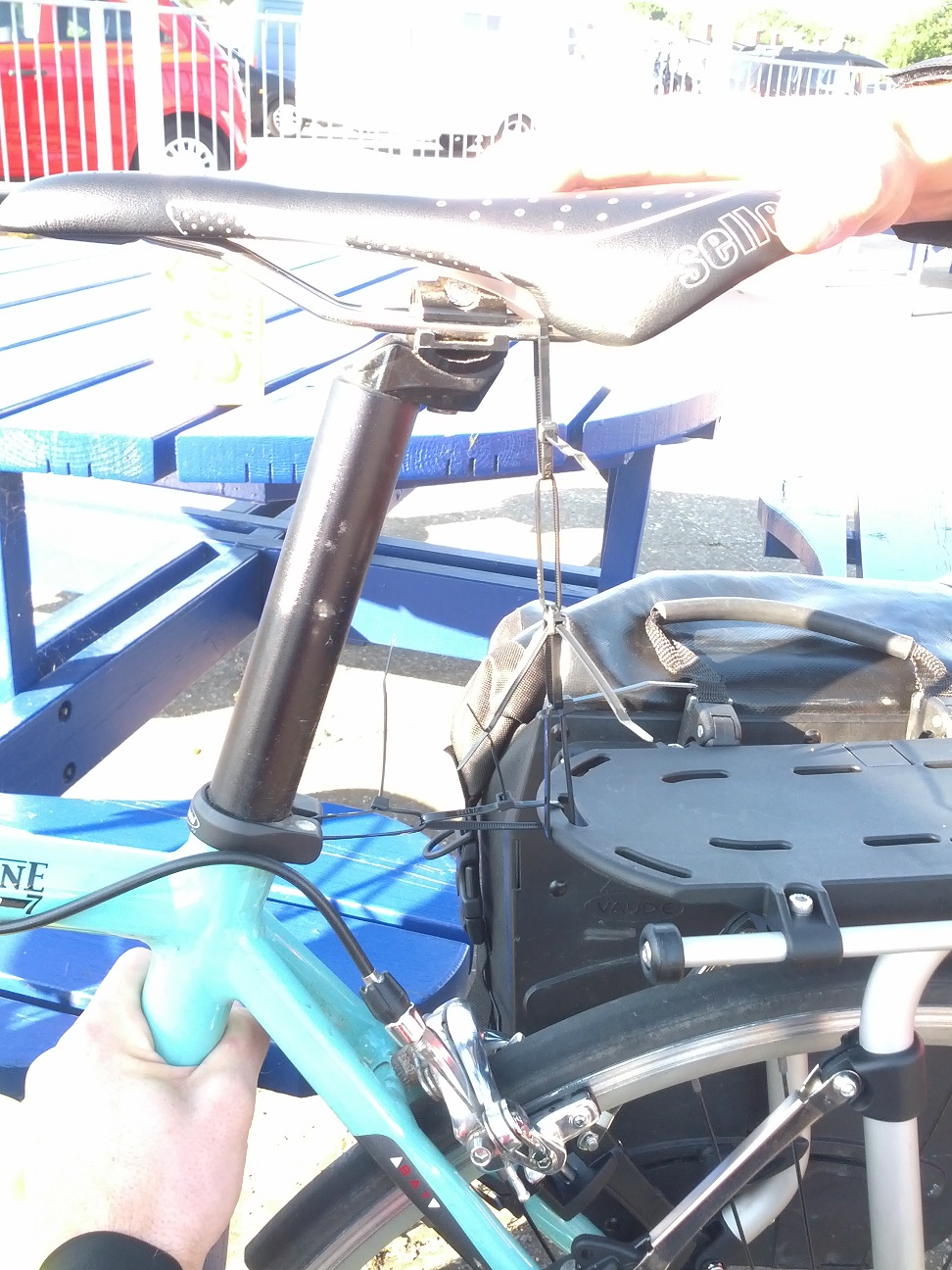 After this incredulous tierap fix we said goodbye to Eric as he got on the train to London and we started our long journey. Our route taking us through the countryside of England from the small villages to the bigger ones, from the backroads through the fields and onto the B roads where I was surprised to see that cars and lorries left us with plenty of room while overtaking us. Roads varied in quality from smooth to some that resembled those found in Belgium. Potholes (without any penises drawn around them), gaps and of course ditches along side of the road wherein you could easily park your bike while smashing your front wheel + fork and not to forget your face were also quite common. We managed to avoid all of it though but this did make me not cycle back from London in the dead of night on Monday.
I especially enjoyed the rolling hills which also reminded me somewhat of Belgium. This time in the positive sense but the best part was cycling in amazing weather. It was not just sunny but hot. Although this resulted in us stopping about five times to refill our bidons and some sunburn it was worth it. It made the trip that more special. Definitely a change of scenery to The Netherlands, besides it was also interesting to drive on the other side of the road. Gear wise I didn't go lower then 39x25 the entire ride, no need for my 30 front gear.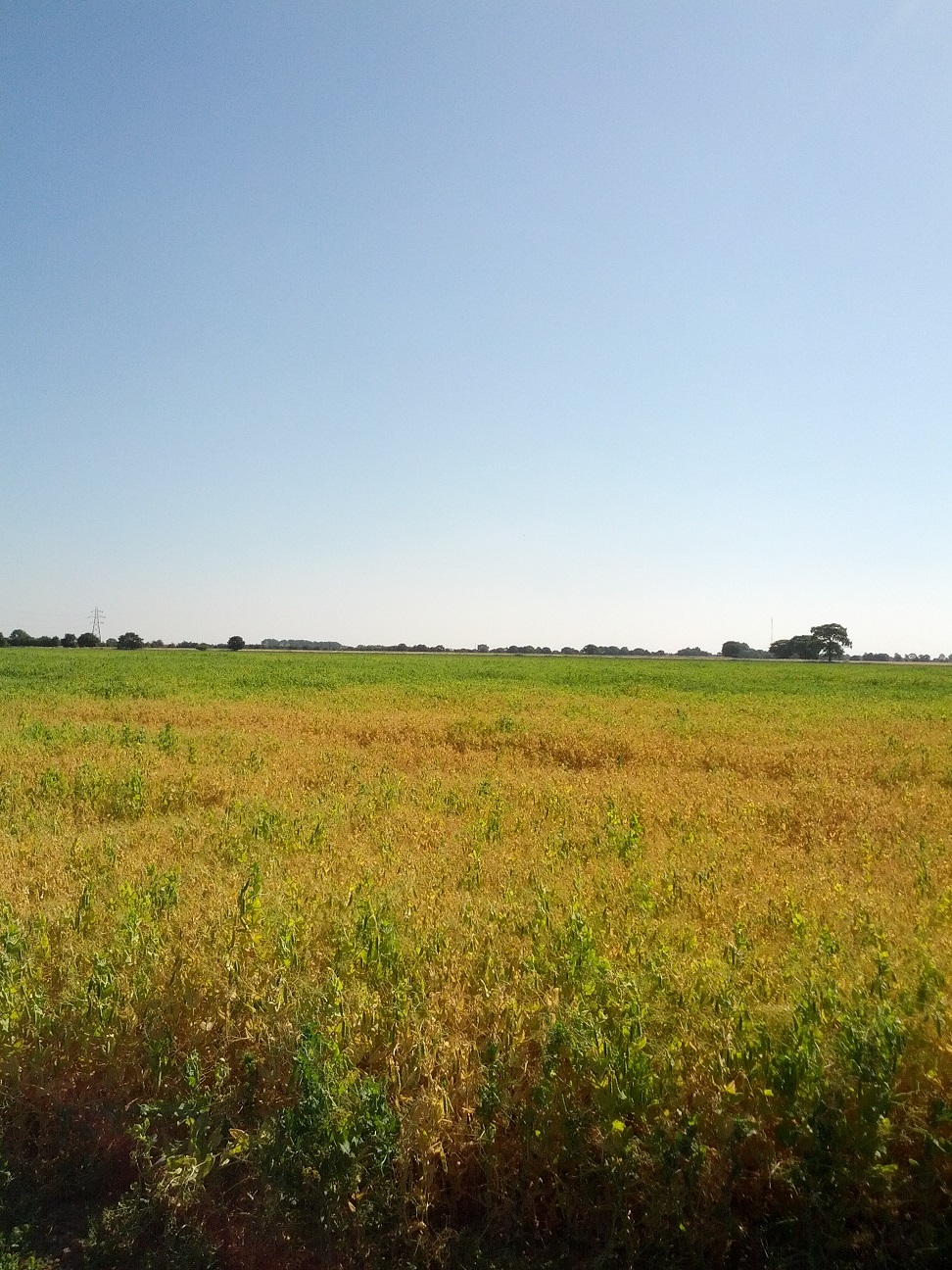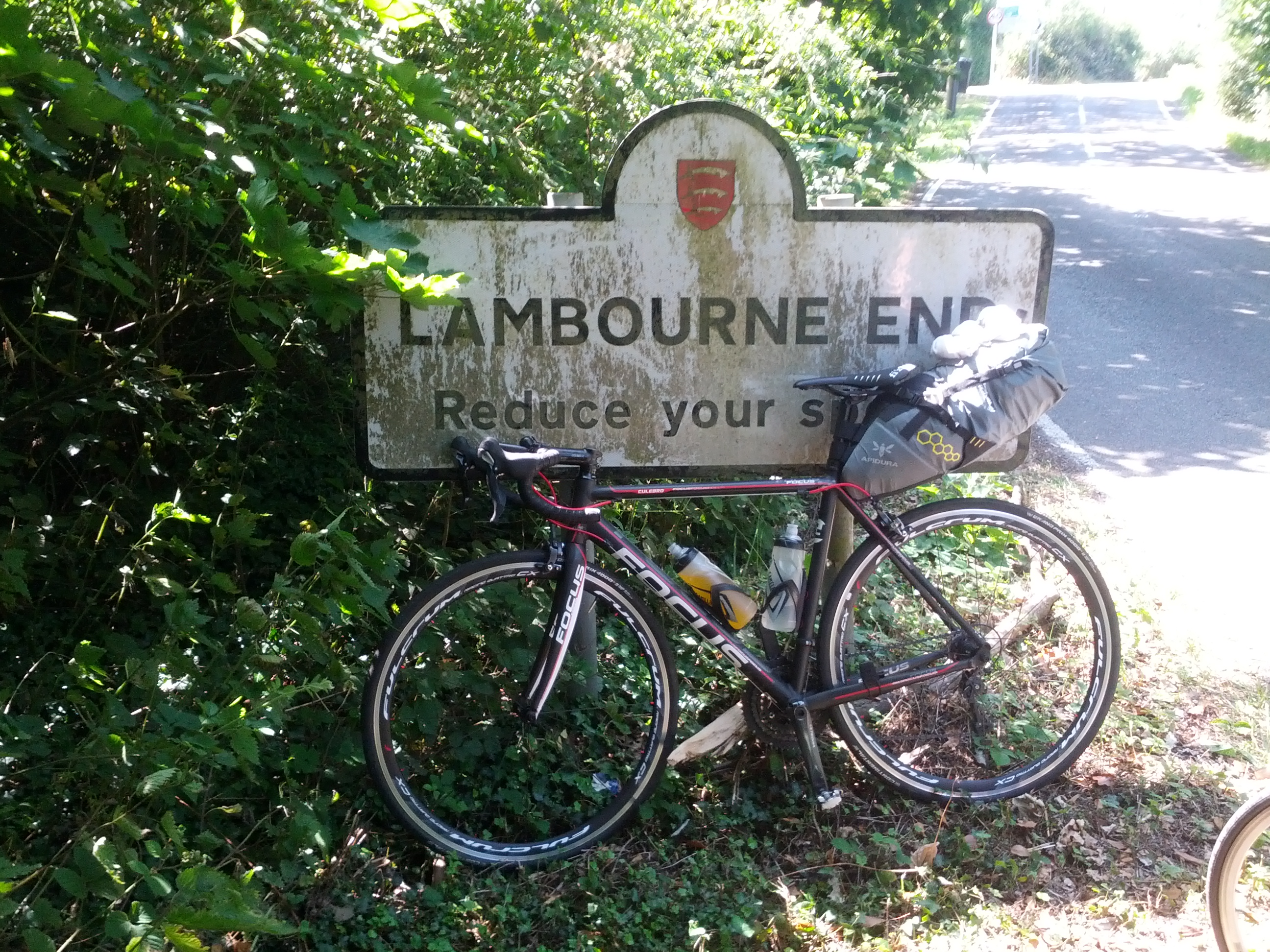 After plenty of ups and downs we were nearing London. Slowly but surely the traffic thickened and we geared up to this final stage of our ride. Especially the combination of stopping for red lights and getting going again time after time was taking its toll. After what seemed two hours we finally reached the pre-party on Exmouth Market where Eric was being true to his nickname "sugarlegs" and downing cola. I opted for chocolate milk, my goto recovery drink. All in all it was a great ride & route!
I also met all the Dutch fixed gear riders that would be riding the Red Hook Crit. Eventually we went out for dinner at a local Italian restaurant just around the corner where we had plenty of fun. After which we joined the pre-party again to have some beers.
As the sun slowly set for the night we headed to our accommodation, thankfully it was quite close. Although we had some communication hiccups with Chris, the girl that would be hosting us, we finally met up. Albeit not before spotting a fox, which seem to be quite common in the London suburbs. We all talked a bit before going into horizontal snooze.
Saturday - Red Hook Crit
It's always interesting to see how people deal with stress build-up to something exciting. For example I tend to be excited, introvert and somewhat stressed all at the same time just before doing something like a geared crit. But this is different for every person. I'll get more into this later but just look at the pre-game face of Eric.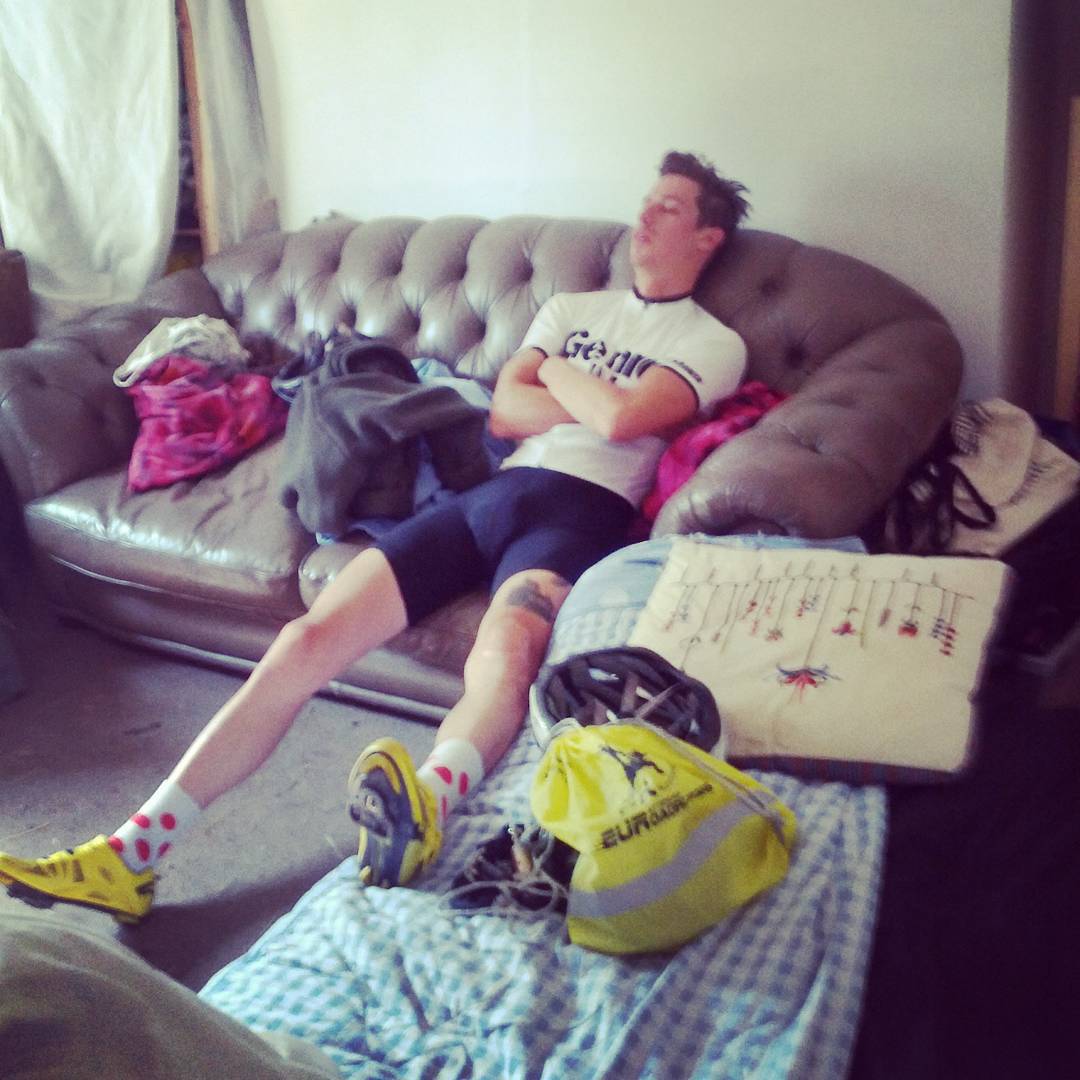 We headed out with Chris to Shoreditch house for a big breakfast which was quite excellent. They even had a nice wardrobe room that included room for your bike. After enjoying the view from the top of the building and stuffing myself with fruits, tea, scrambled egg with salmon and other delights we headed for Greenwich Peninsula where the crit was going to be held. We detoured a bit and lost Eric & Chris along the way but eventually reached it and caught up again.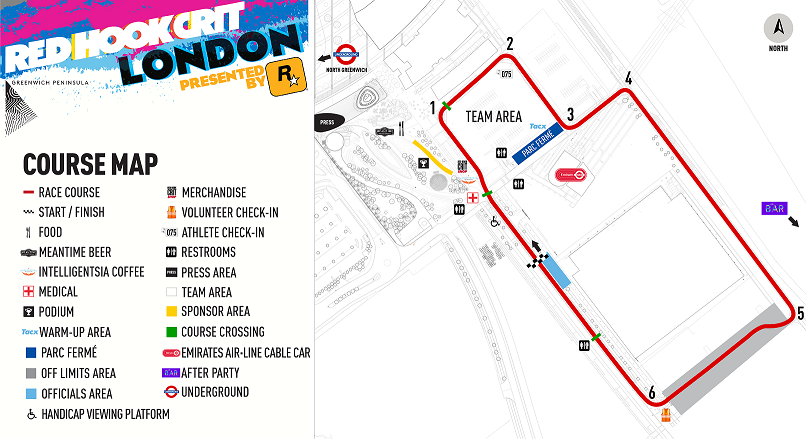 There would be six qualification groups. The women had to qualify first, although this was mostly a formality as there weren't enough women to scratch any from the race (85 spots available, 39 women riding). Another good reason for qualification is to get familiar with the track. Knowing how to take the corners can be quite important and not soon after they started there was a crash in turn two. This turn turned out to be one that a lot of racers crashed in, eventually you don't really want to watch any more of it and so we moved on. Below is a picture of a snapped aluminium frame, bend carbon wheel and someone with number 13th (you should always flip it if you get that number, it's unwritten rule).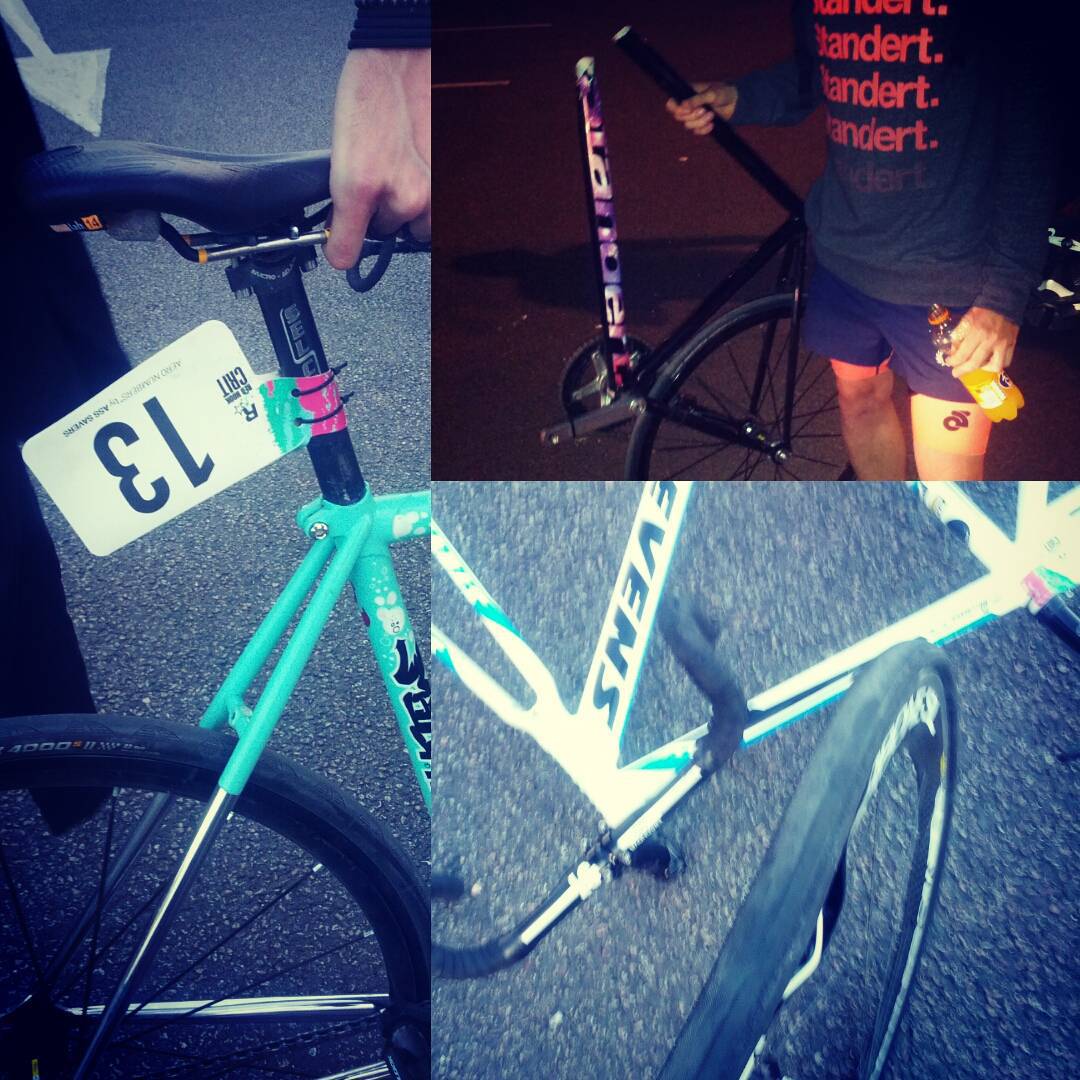 Tension amongst the racers was very tangible just before their qualifying. Some would listen to music to gather their thoughts while others got quite stressed and expressed this quite well. Not always in the nicest of ways but the stress is quite understandable, at least to me. These guys and gals are riding in a race that brings with it a high risk of crashing which can result in severe injury. From road rash to broken collarbones but also head injuries. And this was 'just' the qualifications.
Eric eventually placed himself 15th out of 207 men with a time of 1:29.728 (fastest lap set on the course 1:27.929) during qualifications. I was very impressed and you could see that it started to dawn on him that he would be racing in the race itself now with 85 men, his face telling the full story. Stress levels to the max or rather over 9000! Good that he could listen to some Bob Marley & The Wailers while preparing for the highlight of the day.
The women's race was up first (20 laps, 22,5 km) and Saskia and I tried to get a good spot near the stretch of road on the start/finish line between turn 6 and 1. The race was quite exiting and the crowd was awesome even though I drew blood with the use of the Red Hook cowbell through my own excitement. I opted to slam the side boards after this instead.
Then it was time for the men's race. Plenty of Dutch fixed gear racers had placed which is really good with this amazingly varied field of racers from all over the world. In part this was the result of the Dutch Fixed Crit Cup (Vast Verzet Bokaal) that was organised for its inaugural year in The Netherlands with several crits around the country. Lots more races equals more experienced and well trained riders which in turn pays off at an event like this.
Tempo was high from start. I'm guessing they averaged about 45 km/h (28 mph) on some laps, on the straights the probably sprinted at over 50 km/h. It's hard to tell from the sidelines but the faces of the riders tells you a lot. Certainly high to keep up for the full 26 laps (30 km). And you did notice that after lap 15+ the speed was a little lower and riders started to show their fatigue. Certainly due to a crash the field in the middle group changed. Eric, guy on the fluorescent pink bike with white jersey & black shorts (you'll see him in the videos below), was affected by this as he dropped several places. Shame though as he was positioned quite well before this. I'm guessing here but he could have finished well within the top 30. He ended up finishing the race and placing 54th however. Still very good. In the end 85 men started of which 70 finished with 15 crashing or got lapped (when you get lapped you're also out of the race).
Eric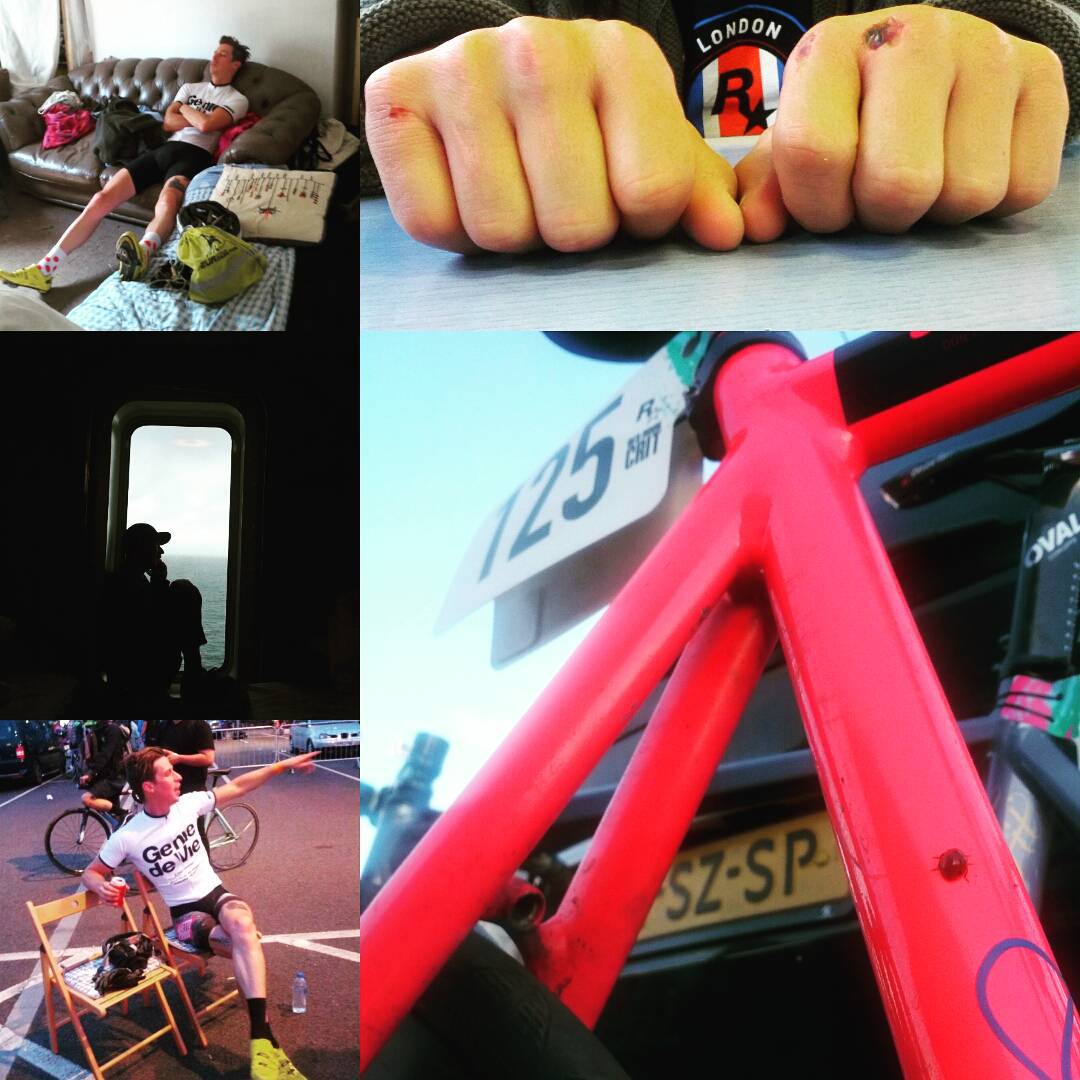 Official Red Hook Crit men's race:
Another video of the men's race with some comments explaining what the hard part about it is (including the crash Eric was in):
And a last video giving you a taste of the atmosphere:
After party & after after party
After getting Eric his post-race cola and hearing his & other racers story about the crit it was time for the after party which was quite close to the circuit at The Jetty. It was fun to talk to some of the other racers, spectators and even some of the organisation behind Red Hook Crit.
The party only lasted until 01:00 so some people organized an after after party at the place they were staying. Although the details were somewhat vague on this, a lot of people ended up going to this place by bike. To say the least it was one of the most interesting commutes I've ever done, in part due to a ride over a motorway (A-road). It felt like I was a greenhorn and being taken through the ropes to come out not so novice on the other side while being in a cycling documentary by Lucas Brunelle. At the house itself it was also quite interesting, so many people and lots bikes. It was just crazy busy with a great atmosphere.
However I was getting quite tired now and eventually decided to go back to Chris's. Taking my trusty, albeit some what crashy, Garmin 810 as my guide I cycled back. An interesting ride, somewhat less exciting then the one before, but still having a flat in London makes it that more exotic.
Sunday - Out & about
The morning started out a bit hungover for me. I normally don't drink a lot and even when I do it affects me quite easily so I don't have to drink as much for the desired effect. Lets just say that being fit pays off. After several glasses of water and getting the rest into gear we ended up walking around the neighbourhood in Hackney. In the street we were staying the neighbours were having a little street party.
We didn't stick around but walked over to Look mum no hands!. A bike café where we had a very delicious breakfast. I even got to buy two Pedros tire levers. Very solid build quality. After breakfast I said my goodbyes to the rest and started my cycle journey to Catherine. A friend I made in Australia and I'm glad to say I still keep in contact with. A few months earlier she had came over and we visited the Keukenhof together afterwards I showed her my neck of the woods, Rotterdam.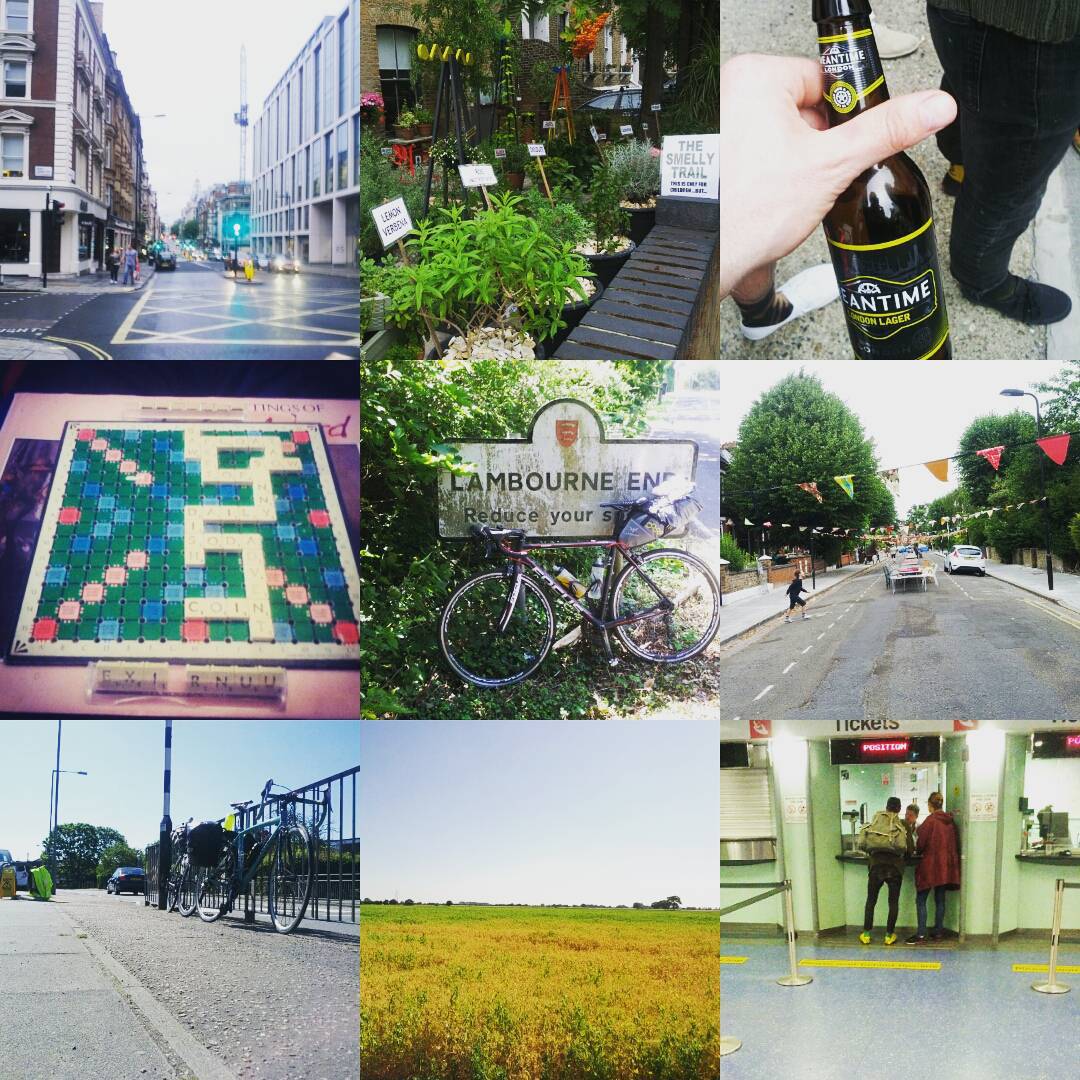 Catherine has a really nice place with her boyfriend in Kensington. We talked for ages and even played some scrabble while having tea and very well made & rich chocolate chip cookies (good job Catherine!). Due to the rain I stayed longer then I had intended, however I enjoyed it immensely. We ended up eating some Asian food together before I had to make my way back to Chris's.
Monday - Way back
Early Monday around 05:00 we headed for Liverpool station to catch the train to Harwich. Not entirely uneventful journey as some trains were delayed or even cancelled but we reached the ferry in time. We had booked a cabin just the day before as a last minute decision. This was a really good idea as we were all quite tired. Pity that a false alarm interrupted our sleep.
Eventually (that's the right word for a ferry crossing) the ferry reached Hook of Holland and we disembarked. Got the train and at Rotterdam Central Station I said my goodbyes to Saskia and Eric.
Some more pictures here.
---
As you can guess from this story a fixie will certainly be in my list of bikes soon enough, although I do want to build it up myself. I'm currently looking for a nice frame.