Mont Ventoux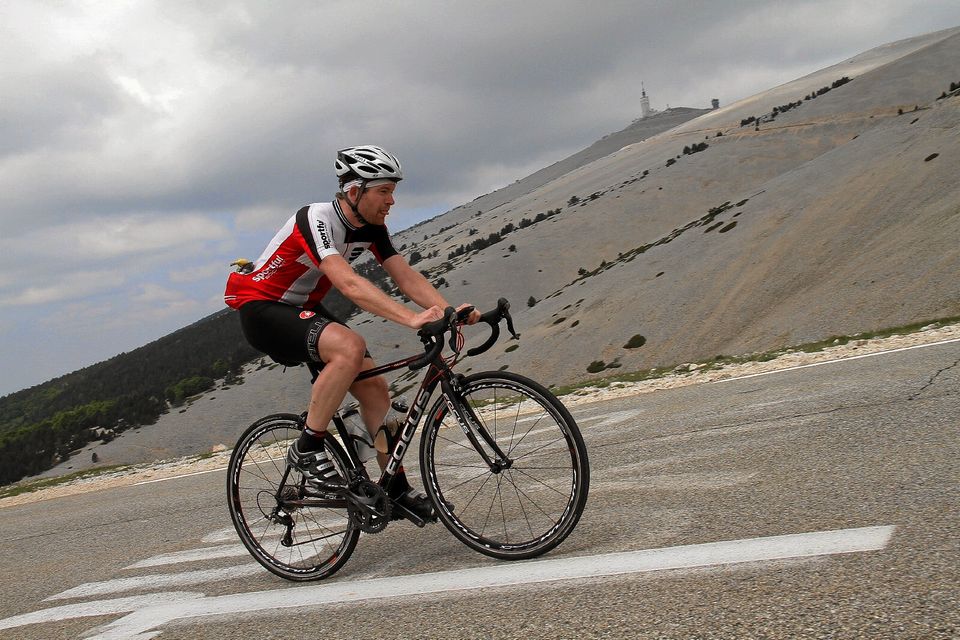 Back in May I finally got to climb proper sized mountains in southern-eastern region of Provence in France. Something that I had been looking forward to ever since a cycle friend invited me to do so more than a year ago. However in 2014 I didn't have time. This year however I had plenty.
En route
The day started early, as we had to cover a distance well over 1100 kilometres from Rotterdam to Villes-sur-Auzon in Provence-Alpes-Côte d'Azur region of France. So that meant getting up at 03:30 in the morning and leaving just shy of 04:00. Marcel (my cycle friend) and chauffeur (I'm still working on my driving license) would be riding the entire time. I was in charge of music during the ride from The Netherlands through Belgium, Luxembourg and France.
Around 14:00 we arrived at our Airbnb address in Villes-sur-Auzon. Although we didn't find the place right-away. I totally blame the local youths that misdirected us. However we finally found the place above a flower shop, which we had walked passed several times.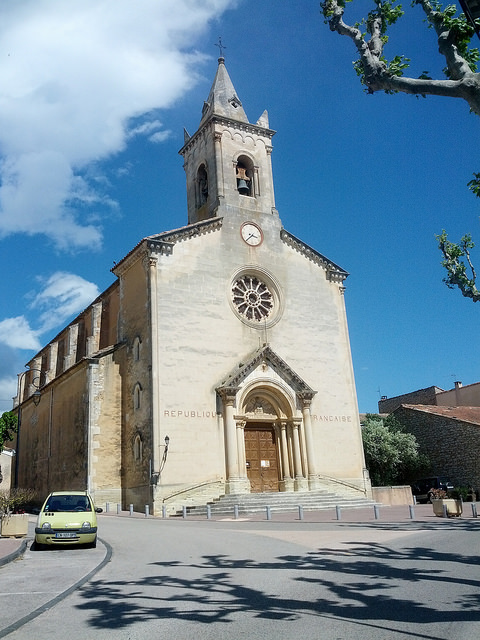 Day 1: Col de la Madeleine
After meeting the France family we would be staying with for several days we got settled in and even though it was especially windy that day we jumped on the roadbike to cycle through Flassan and Bédoin. Bédoin is the classic starting point to climb the Mont Ventoux. However it was totally deserted due to the strong winds. Most people must have cancelled their summit attempt that day. We quickly headed to our first col of the day. Col de la Madeleine (448 m) and it felt great. The combination of a triple and 28-11 cassette was really nice, although I only used my 39 + 21 for this col. This with a higher cadence that I had been training for the last couple of months gave me plenty of room to work with. We cycled on to Malaucéne to look at some bikeshops. However not a lot was that interesting as prices were a little steeper here then back home.
We decide to head back to our homebase while climbing Col de la Madeleine from the other side. Marcel saw a golden opportunity here with the wind in our back to beat his PR (Personal Record). As he's much faster climber than me I opt not to follow in his wake, however on the descent I can overtake him easily. Something I noticed I'm rather good at, I just love going fast downhill and taking those corners while losing as little as possible in speed.
Link to route.
Day 2: Drôme - The four cols
This day would be the first test. Especially Col de Soubeyrand, as it should come close to the gradient you can expect on the Mont Ventoux according to Marcel. I'm curious to what this day will bring.
Col d'Ey
We leave early in the morning and head for Buis-les-Baronnies where we park the car and have our breakfast. The weather is already quite warm with ~20 degrees Celsius and the lack of wind compared to the previous day. We head out for the first col, which we will be climbing twice this day (both sides) but the tougher climb is from the Buis-les-Baronnies side. I reach the summit of Col d'Ey (718 m) still riding on my 39 and even on the cassette I have some gears left. The descent into Sainte Jalle is pretty sweet, even the somewhat Belgium looking roads don't bother me much. I can corner quite decently, my new Fulcrum Quattro's rims ride very nicely, and I end up with a top speed in the neighbourhood of 55+ kph.
Col de la Pertie
In Sainte Jalle we eat something from our back pockets and fill the bottles with water from a local fountain. We notice a pretty cool station wagon owned by some Dutch students that are out here doing a geological survey. We talk to them for a minute. The car has seen some rough roads as one of them took it from the South America to Alaska on the Pan-American Highway. We climb back in the saddle and head out for Col de la Pertie (972 m). Although the start is very easy the wind at the end picks up and makes it a lot harder to reach the summit where the final metres are around 8 tot 10 % incline. I finally have to shift down to the lowest front gear and my chain decides to come off the gears entirely, however I do not notice this at first. My head thinks I've selected a gear to easy and I try to shift up again. I'm pedalling air which doesn't feel as good as it sounds. Finally noticing my predicament I unmount from my bike while cursing. After repositioning the chain back on the smallest cog I try to get back into my cycling rhythm, which is totally for not and makes the ascent even tougher. The descent makes everything worth it tough. In Cornillon-sur-l'Oule we refill our bottles and drink a cola.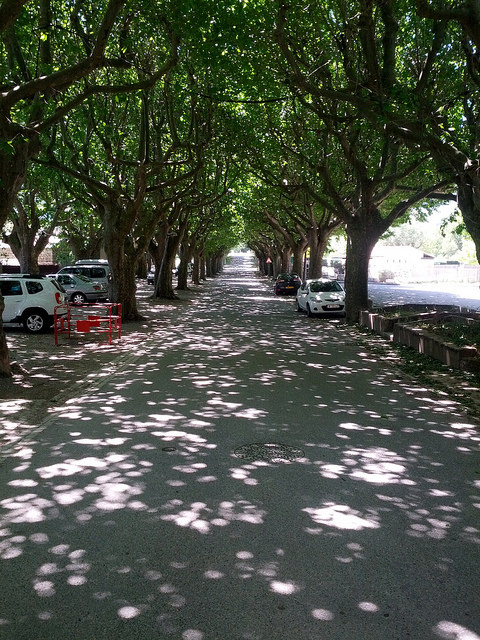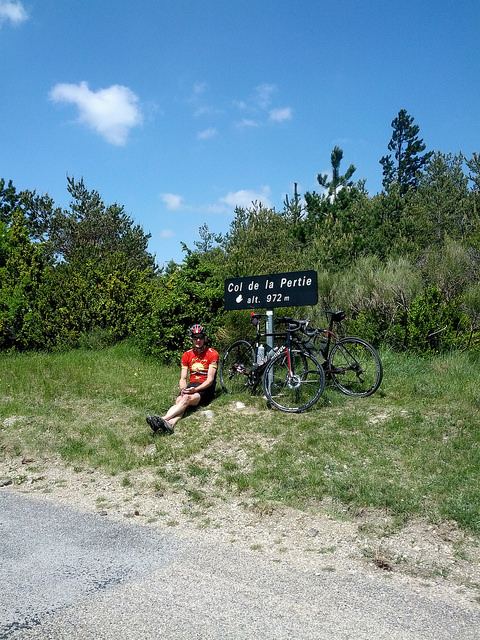 Col de Soubeyrand
While we head for the 3rd climb of the day we see why this area is famous for it's vultures (which is also part of their crest). Near the cliffs where they nest we see several of them flying in big circular motions through the sky above us on this hot day. We reach the beginning of the toughest climb of the day, Col de Soubeyrand (994 m). Definitely the toughest climb I've done so far due to combination of length and gradient but I manage to hold on. I keep my pace with my middle front gear (39) and 28 on the back. Sometimes even shifting up, even with the heat. Corner after corner I keep pushing the pedals to keep momentum. Only having some respite when the incline slightly drops and I get to breath a bit easier while drinking from my water bottle filled with energy. At the summit I recover quickly and notice the col sign which seems to have been attacked by someone with a rifle. Someone wasn't to glad with this climb I reckon. The descent is the nicest so far and I reach a nice speed of 60+ km/h, overtaking Marcel.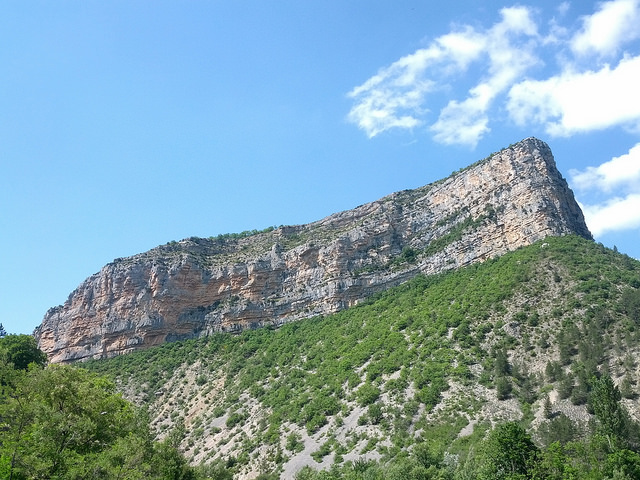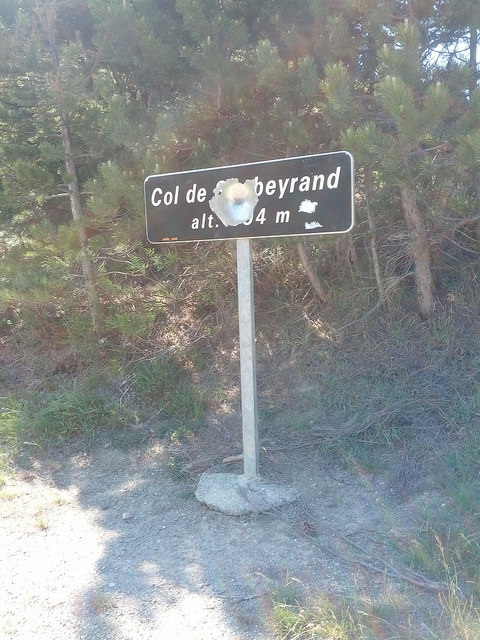 Col d'Ey
We take a familiar route of our first (and last) col of the day but now in reverse. Much easier but somehow the day is starting to take it's toll on our legs. We soon reach the summit and it's time to get back to the car. Time for dinner!
Link to route.
Day 3: Gorges de la Nesque
Soon after having breakfast I notice that my stomach isn't game today and after several visits to the toilet I feel the lack of energy that I would have need to climb Mont Ventoux. Which definitely isn't going to happen today. Marcel offers a car ride around the area including the Mont Ventoux, which is a welcome distraction from the disappointment with myself.
We ride from Bédoin to the summit of the Mont Ventoux, a great way to see the route a day before we will be climbing it ourselves. It's a sight in itself to see people of all walks of life climbing her. Some of them are already standing on the bike in the forest to get up while other are pedalling in a beautiful cadence. After the forest area we get to what is often described as moon landscape and it feels as such. Nearing the summit and finally parking there we notice that the col sign is missing, however the little stone which also marks the summit is still there. After a look around from this mountain over the entire region we head to Malaucéne. This is a nicer descent then back to Bédoin which is quite busy with cars, campers and motors. The smell of the breaking is something I notice on the next they will ascending myself. However the descent to Malaucéne is less crowded with motorised vehicles.
We continue on by car and end up for lunch in a little village called Moncontou which overlooks the valley on the northside of the Mont Ventoux. The restaurant La Poterne provides us with a beautiful view over this valley that is teeming with birdlife and insects. Especially swallows seem to be having a great time catching the insects. I truly recommend this place if you are ever in this area. After having two meals each I feel replenished and we head out for Sault were we stop to get a mandatory coffee for Marcel. Via Gorges we descent back to our home for the weekend.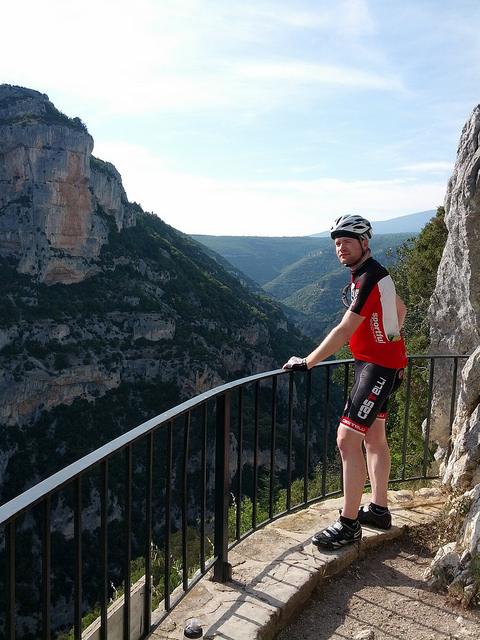 As I feel loads better we end up cycling back the way we came, 19 K up and 19 K down. As we have the wind in our back on the ascent the first part is very easy, even with the 5 % incline to the summit of 688 metres. After stopping for the view we head back down and notice the wind, even pedalling like crazy doesn't help a lot. Certainly not going to break my speed record here. We soon reach Villes-sur-Auzon. After showering, we get ready for dinner. Which turns out to be at a very nice restaurant that serves a dinner special called Mont Ventoux. Coincidence?
Link to route.
Day 4: Mont Ventoux
The real test of our entire weekend in Southern France. We get up early and take a similar route as the first day to Bédoin where our climb to the summit of Mont Ventoux (1912 m) begins. Just before we head out I can stung by a wasp on my arm. However nothing will stop me from reaching the summit this day, nothing!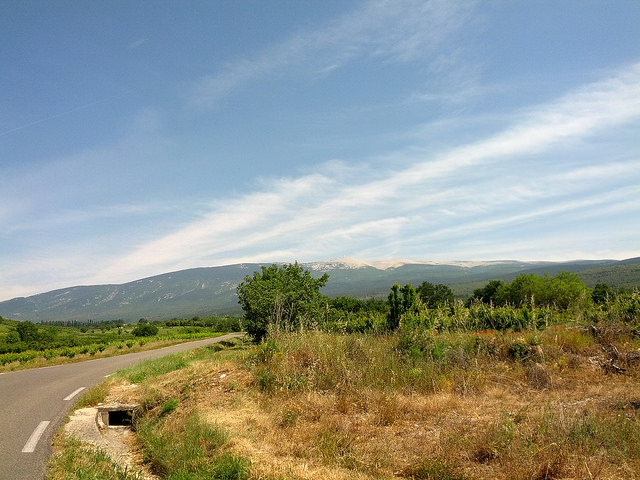 Marcel gone in a few seconds, he is so much faster on the ascent then me. Plus he really wants to beat his attempt from last year (1 hour 35 minutes). I didn't set such a goal for myself, however I would like to reach the summit within 2 hours.
The Forest
In the forest the real climbing starts, the toughest part of the entire climb. Good it isn't to hot today, even with 20 degrees Celsius. I try to get into a rhythm but it's hard, especially breathing wise. My high cadence might also not be helping here but I fail to notice it. Even though I shift to the lowest possible gearing I have to stop and as I'm not using my shifter on the left part of my sheer I pull off my helmet and hang in there. The gloves come off...this climb will I'll definitely be fighting with myself physically & mentally. I get back into the saddle and soon I'm overtaking people that passed me during my stop. However after several corners I have to stop again, some people pass me, I get up again, pass them and this repeats itself a couple of times until I notice I'm close to reaching the mental halfway point in Chalet Reynard. The car ride yesterday helped to see what lays ahead.
The Summit
In Chalet Reynard I refill my bottles, even though I probably won't need to as the weather here is much colder. I'd probably only refill here if it's a hot day, especially in combination with head wind.
Here the bald part of the mount begins, so named as you only see exposed limestone with little or no vegetation. I'm lucky here as there isn't wind to make this part tougher. The last 6 kilometres are tough but not as tough as the first section back in the forest. I overtake everyone I see and in the last 4 kilometres Marcel zips past to do a U turn and ride behind me for moral support. Which is nice of him but I need to concentrate and force him into silence. I end up stopping two more times and Marcel gives me the advice to lower my cadence. This helps and the summit is within reach. Semi-aware I take cards from people that take my photograph (see result below) and put them into my back pocket. In a similar fashion I ride past the shrine of Tommy Simpson. The final turn to the summit is in sight....I stand up as this part is tough...I make a big circle to lower the gradient a little while not giving a shit about any cars, they are not important on this road....cyclists are, they have priority (or at least in my mind). Other cyclist tend to cut corners which makes it a lot harder. The last meters I push myself and motion the cars to get out of the way...this mountain...this summit...it's mine! I feel a hand that pats me on the shoulders as I umount on the mountain I just mounted.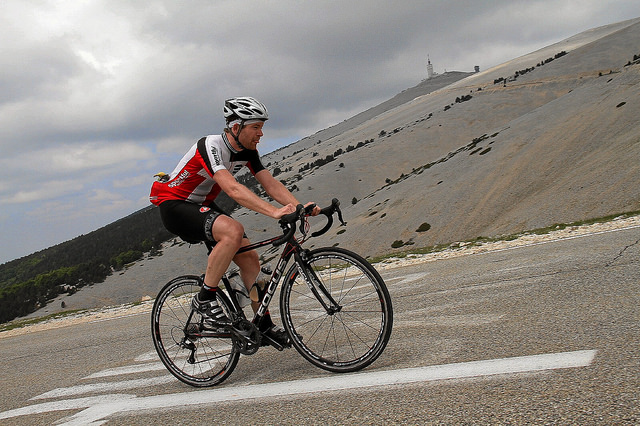 After drinking plenty of fluids to wash away the banana and gingerbread I just ate, I can finally speak in whole sentences. Marcel indicates that he forgot to start his Garmin in
Bédoin and only activated it after the forest part. Pity, as his wristwatch indicates 1 hour 25 minutes beating his PR with 10 minutes. Very nice indeed. Even with the breaks I reached the summit in 1 hour 54 minutes 53 seconds.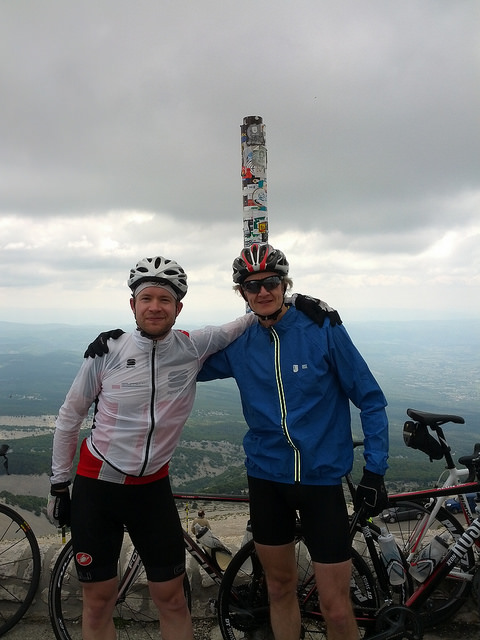 I put on my helmet and pull on my long gloves then my Sportful Hotpack and finally my short gloves. Mandatory on a day like today, especially on the descent. The col sign is still missing which makes for some unique photos.
The Descent
We start our descent but I soon notice something weird about my bike, it's shaking in a weird way, could it be me shaking due to the cold or is it something else? I stop and open my quickrelease on the front wheel, reinserting the wheel and closing it again before continuing on. The problem seems to have vanished and I see Marcel waiting for me.
My confidence in descending returns and the warmth returns with it. The bends are quite nice and very doable. I end up breaking my speed record with 91,4 km/h top speed. Also little or no traffic helps. I love the decent part of climbing a mountain!
In Malaucéne we eat a large lunch and visit some local bike shops. Pity I didn't find any souvenirs here other then food and a fridge magnet, a small version the summit stone which I got back in Villes-sur-Auzon. We climb the last climb, Col de la Madeleine for the third time this weekend.
Link to route.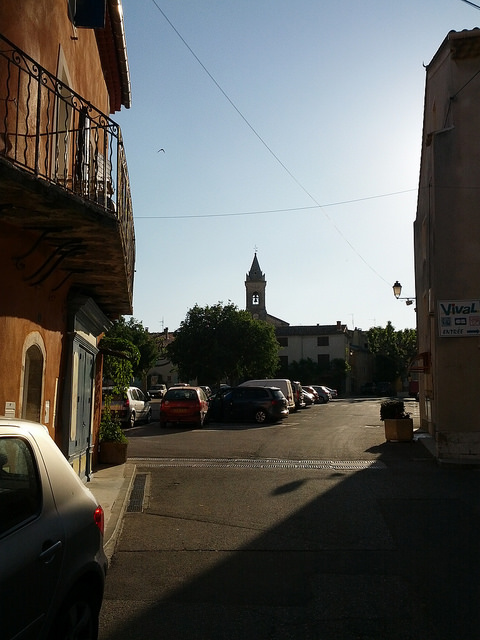 Hindsight
After the climbs in France I'm quite glad with my experience. It was a good learning experience for me which has made me a lot stronger mentally and physically. I sure I can beat my climb to the summit of the Mont Ventoux with at least 10 minutes. However I will need to lower my cadence somewhat and probably not shift gears to the lowest possible gear to keep more feeling in my legs. But I'm definitely hooked on climbing mountains!