In & around Melbourne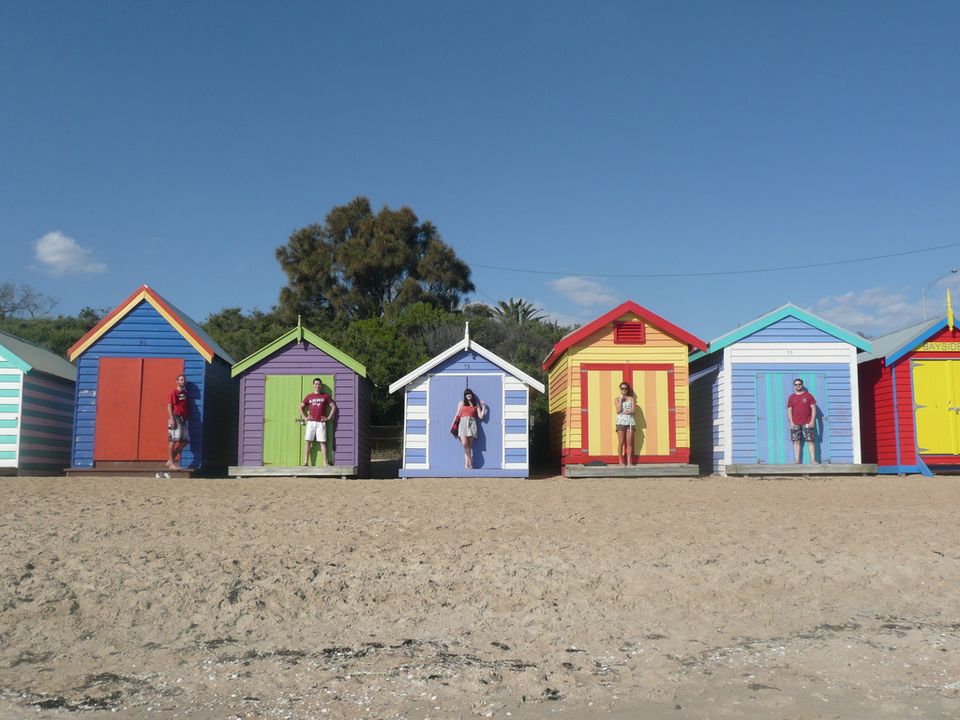 It's been a while since I posted on my little blog, the last story was about Tasmania and my big adventure on the Overland Track. That was back in the end of February. Therefore in the last week that I've been in Geraldton in Western Australia (more on that in the next post about WA) I put most of my time in writing down all my adventures of the last 2 months. And now I can put that writing into blog form.
Great Ocean Road
On the first week of March I took Matthew and Emma up on there invite for the Great Ocean Road which I told you about in my first blog about Melbourne. Luke, one of several cooks at the hostel, also came with us for a 2 day trip on the road.
Early in the morning Matthew, Emma, Luke and I headed out and start our journey in Torquay where the Great Ocean Road begins near Bells Beach we took a short break from our drive down from Melbourne and enjoyed a bit of the view. At the official start we snapped some touristy photos but also read up on the history of the road. Did you know that the Great Ocean Road is the biggest war memorial in the world stretching across 243 kilometres of road.
Heading further down the road we took a sidetrip that turns out to be a very good one. In the Great Otway National Park we go down towards Erskine Falls. A little water fall with a 30 metre drop. However before we headed to the waterfall Matthew and I go in the opposite direction. Mostly because of this sign that just taunts us. That and me laughing in the face of danger these days after the Overland Track ;) We head towards the Strawfalls that look less impressive but it's a good walk, even on my Converse shoes. When we get back to Emma and Luke we find a tiger snake (at least we think it is) near the Erskine Falls. It seems to be dead which is the preferred state in which to find a snake, although Matthew goes in for a closer examination with stick in hand. I took some pictures of Matthew with the dead snake which he even picks up but won't put around his neck.
On the road again we head for Apollo Beach which is quite beautiful even with the rainy weather. And after a walk around the beach and town we get back in the car for Cape Otway. This is the location of the lighthouse where the Australian TV series Round the Twist was recorded. A series which I used to watch all the time, you might remember the theme song. Pity that they charge 20 dollar for a view of it! Somewhat deterred we drove on but soon we saw Koala's in every gumtree (eucalyptus trees) and so we stopped and admired the Koala's instead. Some eating the leaves, while others were sleeping. Our biggest surprise was a Koala that was just sitting in the middle of the road. We even had to direct traffic around the little creatures while we made some more pictures.
As our first day on the road winds down we set up our tents near Johanna Beach between Apollo Beach and Port Campbell. Setting up takes a while because of the strong winds but we manage it in the end. We decide to get a bite to eat in Apollo Beach and on the drive over I finally see my first Kangaroo in Australia! Somehow it makes me hungry and we decide on eating some Kangaroo filet...very jummy!
The last day on the Great Ocean Road we had several stops along the way, hopping in and out of the car was a great exercise. We started off with one of the most famous, The Twelve Apostles (which has a great warning sign), where we got fairly early as Pat from Lords Lodge recommended. This way we avoided the many tourist buses that visit this spot after 9 am. After The Twelve Apostles we saw the Blowhole, Port Campbell where we had an amazing full English breakfast, London Bridge we met somebody who was actually there when it fell down, at The Grotto Matthew and I climbed over the wall and looked around a bit at the little lake and sea (did some graffiti there) and Emma made a nice photo of us guys. Finally we made it to Port Ferry a nice little town with a reservation for wildlife on Griffiths Island including Swamp Wallabies (video) and a Shearwater colony of about 30.000.
After having some fish & chips we set out for the last part of the journey, back to Melbourne. In the next days Emma & Matthew prepared for their journey to Indonesia but not before we head down town for a fun night of music trivia. We end up getting two jugs of beer. One of them for free (Thanks Pat!) and other because Matthew did the best Eddie Van Halen impersonation ever!
Working in Melbourne
After Tasmania I was trying to find some work in Melbourne. I really wanted to find some IT related work because having work experience in a foreign country would look good on my CV, especially if I get a reference out of it. But after several weeks of searching and replying I gave up and found a little cash-in-hand job (Thanks Tobias) working for a French Antique dealer. Thanks to Erik the owner I got some cash which made life in Melbourne a bit easier and also learned a bit more French while working with Brice. The work included moving, polishing, waxing and cleaning antique furniture. And in the end it was good physical work. Besides, we got free lunch at Minimo on Sydney Road almost everyday. A great little lunch room in Brunswick. I especially liked the burger with chilli jam on top.
It was good lending a hand and with the money I went to my first every Australia Football League (AFL) game on Thursday with about 10 other backpackers from the hostel. It was great fun and the game is quite easy to understand and very exciting especially towards the end.
On Sunday as a last minute decision I made up my mind and bought a general admission ticket for The Grand Prix of Melbourne. As the hostel was a 10 minute walk from Albert Park where Grand Prix was held it should have been an easy decision to begin with. I can still remember seeing Ayrton Senna as a little kid, driving amazing in his F1 car. But seeing and especially hearing it in real life was an awesome experience. I ended that day with a concert. Charlie & Catherine took me to see Bonjah at Northcote Social Club. Which was a great concert. Later I got the album but it doesn't really compare to a live concert of Bonjah. Thanks to Charlie for the introduction to Bonjah and the laughs Catherine!
Last days in Melbourne
After my last week at work I decided that it was time to move on, even though I would be missing all the new friends I made in Melbourne. But before I left Melbourne I wanted to experience the WWOOFing thing in Australia. Basicly it's accommodation and food in exchange for working on a farm. With the help of Virginie (French girl I met in the Hostel) I decided to e-mail some of the farmers in the Kyneton area (about 1 hour away from Melbourne by train). And after a few days I ended up with a place to stay and work for two weeks. Just a few days before my flight to Perth.
Before I tell you about my WWOOF experience I did have a few more days in Melbourne left which I spend mostly lazying about and going to the beach. Most of the time we went to Sandringham beach but because Catherine wanted to see the beach houses at Brighton Beach we ended up going there instead with bunch of us including the Flemish Isabelle. And that was certainly a good idea, the view from the beach towards the city with the beach houses was very nice! And ending the day with a beautiful sunset.
Another fun event at the hostel was the dressup party we had to celebrate the birthday of Douglas. Everybody got dressed up as something starting with the letter D. I dressup as Dexter from Dexter's Laboratory while other had their own goofy outfits. It was all good fun but getting the orange spray out of my hair took a long time ;)
On the last day at the hostel I decide to visit the chiropractor as my back was killing me. When I walked I could feel pain coming and going in BOTH my arms, which as the chiropractor told me (and I guessed) isn't very good. Especially running (even though I just did a 10 K a week before) hurt a lot so I decided to take it easy for a few weeks with that. Thankfully the Flemish chiropractor helped me with my back issues while we spoke a mix of Dutch and English.
After my back breaking Catherine, Charlie, Isabelle, Melany, Melanie, Amy-Rose and I went for some drinks on the last day of Isabelle and me in Melbourne. After some lame speech on my part we had a good laugh and finish our drinks at the bar in the middle of the Yarra river.
Working on a farm
After a long farewell in the evening of 12th of March I left for Southern Cross station with Isabelle. She would be going to Perth as I went with the Vline train to Kyneton for my 2 weeks of WWOOFing. After having a short lunch we said goodbye and I got on the train to Kyneton, which is about 85 kilometres to the north from Melbourne.
At the station I got picked up by Ari (the owner of the farm) and Amalia (the other WWOOFie). We drove back to the farm and Amalia took me down to the animals. They have 11 sheep including one ram and two lambs, 3 cows, 22 chickens which we count every night due to foxes and snakes, 6 very stubborn ducks, 2 horses, 2 cats and 2 dogs. I'm not counting the kangaroos that seem to be hopping about just after dawn and before dusk. Sometimes even giving a boxing show. And then there were the birds of course.
The sheep and the horses were very friendly. After a while you start to remember their faces and sometimes even names but two weeks isn't enough to remember all the sheep names. Besides feeding the animals there is loads to do around the farm. A typical day start with me digging a trench on two sides of the main house as deep as the foundation goes. This is due to the rain that in winter seeps into the house that only has an outerwalls. By digging two trenches around the house we should eventually direct the water away from the house.
After Amalia is finished milking the animals and feeding the chickens & ducks she calls me for breakfast. We either eat muesli or oats with very fresh milk and home made bread. Almost everything on the farm is homemade which requires a lot of work but taste a lot better. I'll definitely buy a bread machine when I get home! They also had a wide selection of jams, my favourite being fig jam. And I even made feta cheese from sheep's milk!
One of my first activities during the evening was the crushing of apples into apple juice for cider with a apple juicer but it seems my allergy for apples went on overdrive with this activity. Normally when I eat apples the roof of my mount and my lips go itchy and would sometimes cause me to sneeze. But with the apple juicing my eyes & nose went into full blown allergy mode. Something I haven't had since I was a child and back then it was due to hayfever. So after a short lunch I decide I would finish the juicing but not repeat it another day. Apple picking didn't cause so much grief. And on one of the more rainy days, we mostly had sunshine during my stay, Amalia and I picked apples. This was good fun as we could chuck the rotten, semi-eaten, or insect infected ones over to the chicken coop.
Another job on the farm required Ari and me to fence of an area down the farm with chickenwire. A tougher job than the juicing, especially in the hot weather but interesting as well. I even saw a fox running near the stream that runs along side the farm. A beautiful animal but a nuisance to farmers, which they are allowed to shoot. The toughest job I did must have been the digging of two 60 cm deep pole sized holes for fencing. Although the special equipment helped a lot here it was still a very sweaty job.
Before sunset we would gather all the animals again and move them back into their paddocks. This was mostly done by using animal feed and sometimes as a treat we gave the horses apples and bread to the cows. After checking if all the chickens and ducks were there we would close the coop, although we even did that when the ducks were still swimming near the dam. They are bloody stubborn those ducks!
A short video of our evening routine below:
Then it was finally time for dinner. It was mainly Amalia that cooked but Ari would sometimes wipe up some amazingly good Mexican food. Amalia made a lot of different things and I especially liked her coriander soup, spaghetti bolognese and her chocolate fudge brownies which were gone in a few days! I made a big batch pesto from scratch so we could eat that several times and also made spicy omelets.
My back got a lot better on the farm and so I decide on a run through the area around the farm. Especially because Turpin Falls is so close to the farm, which I visited on my second run. I didn't see any snakes or spiders on my run but I saw several kangaroos hopping away while I came closer and even a Echidna. I did finally see a Redback when we moved a bathtub to be used as a drinking troff.
Although the farm is great fun it's good to head out some of the time. Especially for Amalia who has been on the farm for 3 months to get her second year visa. So when we had to do shopping we would go to Kyneton which is a town close to the farm. It even has some really nice shops that sell antique furniture of which I now know a little more.
We even tried to escape the farm to see a movie in the neighbouring town of Castlemaine. After an hour driving however we found out that it was sold out and we ended up going back to the farm. We did however see a fun movie there, 'Tamara Drewe'.
During my two weeks at the farm I also get to see Viriginie again as she is working on a WWOOF farm near Kyneton. So after some Facebook messages we decide to have lunch together at her farm. We eventually found the farm after visiting two wrong ones and met Virginie and the other WWOOFie Marianna. The lunch was amazing. Wine, chicken, spinach salad with pinenuts, potatoes and more (thanks girls, we really needed that). And after lunch we got a tour of their farm. The farm is quite professional and consists of 300+ sheep, sheep dogs, 3 horses, lots of chickens, etc. Their accommodation is also a bit warmer than ours, as it gets quite cold during the nights (5 degrees is normal).
But the most fun was our little trip to Bendigo on the Easter weekend. Getting the Vline train in the morning was however a bit of a challenge as we needed to feed the animals early and do most of our chores before we could leave. As bats out of hell we jump into the Ute and head for the trainstation in Kyneton. We made it with minutes to spare and had a bit of a breather on the platform.
In Bendigo we headed for the Chinese district where they hold a Chinese New Year of sorts. We didn't see much of it however because most of our view was obscured. The event wasn't thought out very well because most people seem to be hanging from trees or standing on plants to get a view of the stage. Basicly the tribune is just way to small. After an hour we end up going for a bite to eat and walking down towards the park. During which we heard an awesome sound of bats taking flight. In the park itself there was a fire engine ride for kids and parents. Somehow Amalia got me on this ride but don't ask me how. Eventually it's time for us to part ways as Amalia is staying for a couple more days and I need to go back to the farm again.
On my last days on the farm we said goodbye to Amalia who left for Bendigo again. Afterward she did the Great Ocean Road in reverse and is now travelling through New Zealand. Thanks Amalia for everything! I also would like to thank Christine and Ari for their hospitality and taking me into their house for two weeks. I learned a lot during my short stay.
After leaving the farm I only stayed in Melbourne for one more night and flew to Perth the next day. Hopefully you will not have to wait two months again for my next post though as I will be letting you in on my travel plans in the next one.
Here are the links to the photo galleries of Melbourne, Great Ocean Road and Langley.