Ubud
Bali & Gili Trawangan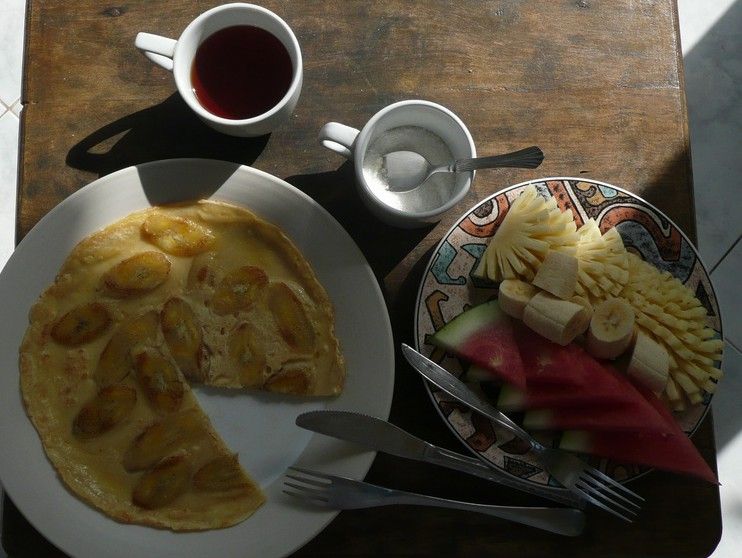 It's already been four days since I landed in this rather rainy country. Although it's summer on this side of the hemisphere it very rainy but I can't complain to much, the flights went very well. Even thought it was quite boring those 18 hours of flying from Bali > Jakarta > Dubai > Amsterdam. During the flight I got to see some films with the in-flight entertainment and started to read in my newly acquired book Game of Thrones by George R.R. Martin. So it wasn't total waste. As my unplanned travels came to an end it was good to have had the 16 days on Bali. It certainly lifted my spirits.
On the 27 of June I said my thanks and farewells to Els and got on the plane to Bali. Not a very long flight about 3 1/2 hours in total from Perth. Kuta is very busy touristy city and I spend only two days there. On the second day I had to move accommodations to the The Three Brothers. A very nice bungalow style accommodation with a big swimming pool. Here I also arrange my travels to Gili Trawangan (Gili T.) where I pre-booked my PADI Open Water diving course. For about 1.3 million Indonesian rupiahs (113 euro) I get picked up and dropped of at Sanur and then go by fastboot to Gili T (including return). The day before leaving Kuta I walked through the streets near the beach and even get my feet nibbled on by little tiny fish. Which feels in some way quite good.
In the minivan that picks me up in Kuta and brings me to the fastboat I meet Charlotte from Manchester. She was travelling for a few days before she starts a work placement in Semarang (how I got it right ;)). We end up as neighbours on the island for a couple of days in Warna Homestead, another recommendation (Thanks Nienke!). The breakfast for the coming days is banana pancakes, which are rather good. After getting my homework for the next 3 days from my dive instructor, Charlotte and I end up exploring the Island a bit. First we check out the Turtle Conservation, which most islands or beach areas seem to have in and around Bali. They keep the little turtles after hatching for a period of 6 months. Only a few hours on the island and the skies open up, thankfully it's the only rain I see for my entire trip. We take one of the many Cidomo's (horse & carriage) to explore the island even further. The best thing about Gili T. is probably that it doesn't allow or have any motorised vehicles and I could hear the ocean hitting the beach from my little hut. The worst might be the cats, which there are a lot of.
After dinner with Charlotte I had to start studying the PADI diving material and work my way through about 110 pages. It's been along time since I had any homework but I manage working my way through the pages and the questions at the end of the two chapters. Early next day my instructor Ari from Mexico helps me review the two pages and questions before I get familiar with the diving gear. In the pool we learn the basics and all goes fine, which means it's time for open water. After a short ride on the boat we dive in and set off for our first dive. All goes well enough at first but then my ears start hurting like crazy. I try to equalize but it doesn't work at all. I signal Ari and he takes me up a little and we try it again without any new result. I have to abort the dive and sit this one out. On the shore I do the smart thing and swing by the clinic. The doctor checks my ears and diagnoses me with an ear infection. In short this means no more diving for 3 days while I work my way through anti-inflammatory and antibiotics. So that's the end of my PADI Open Water diving training. The only good thing is that I get part of my money back from the dive school.
On my few days on the island, after the let down on Thursday, I had some relaxing days. One of them spend entirely on the beach laying in the sun and reading Shantaram (a must read). Although I didn't start that day that lazy as I ran around the island. On the Sunday I did do a snorkelling trip where I met Emma, Ann & Ove. The snorkelling was quite good, although most of the coral near the Gili's is quite dead due to the way the locals have fished here by using explosives and bleach. I did see some fish, a sunken fishing boat and four sea turtles. Two of which quite close and one of them even surfacing in front of me. Another thing that was amazing on Gili Trawangan where the sunsets. After the sunset on Sunday, my last day, we went for dinner at quite a good Indian restaurant and even enjoyed a shisha.
Ubud, my third destination in Bali and because there was this holiday that commemorates the triumph of the good over the evil I even stay an extra day. I stayed in Sania's House, a family run guesthouse, which is close to the market in the centre of Ubud. So having sorted out my place to stay I went for a walk through the Sacred Monkey Forest Sanctuary. Which is quite cool if you don't carry any fruit or nuts with you....let's just say monkeys like you a bit more if you do. I also did a walking tour that was in my Lonely Planet, it took me about 4 hours to complete but it was nice. Taking me through ricefields, little villages, past rivers, past dead snakes and weird looking flowers. Besides the occasional walking trip, temple or even a museum I also went to a spa a couple of times and had my back sorted out which was rather nice. On my last day in Ubud I did a mountain bike tour from Kintamani back to Ubud. On our trip which went mostly down hill we also stopped at a coffee farm. It was fun doing something active again and seeing lots of little villages and having kids wave & say hello.
After my last day in Ubud I got on the shuttle bus and met two Dutch girls travelling together, Josje & Nikki. They turn out to be cousins and also headed for Lovina. We talk a lot during our trip to Lovina and I must say I enjoy talking Dutch again after not having spoken it for a while. As we want to do mostly the same kind of trips in Lovina we end up being neighbours in Lovina. I also give them some tips on Gili T. where they want to go after Lovina. At our hotel Suma in Lovina we arrange a snorkelling trip to Pulau Menjangan which we get for a good price compared to other people and we even get the dolphin trip included for free.
In the morning we set out for Pemuteran from where we go by boat to the island Pulau Menjangan. Here our day of snorkelling starts and as I did a bit of snorkelling in Gili T. I have a good comparison. But after 10 minutes in the water I already know that there is non to make. The coral is amazing, vivid and very much alive. So many different types of fish and coral. It's like being in Finding Nemo and I actually find Nemo....I mean a clownfish. Also the anemone was fun to touch, amazingly sticky but not stingy. The sea cucumber however that our guide picks up feels very weird to touch. Other fish I see include a barracuda, parrotfish and possibly a blacktip shark but it was to hard to make a positive identification but I probably change the story when I tell it in person. On the beach we find a hermitcrab. After two hours of snorkelling we head back to Pemuteran. We get a nice meal together and even ended the day with a game of "gesjaakt".
Next day it was time for the dolphins at sunrise. Which is just a tad bit early for my taste but then I've never seen dolphins in the wildy wild so we got up at 05.30. And after getting in a fishingboat we set off for the hunt and we weren't the only one. It was insane, the sheer amount of boats that were out there with tourists looking for dolphins. It seemed like every boat that could float and has a motor fitted on the back was looking for those cute little mammals. Anyway we did see several but getting a proper photo is quite hard. I must admit that I was more impressed by our sun then the dolphins. The rest of that day was filled with sleeping on the beach. On our last day together we arranged a day worth of sightseeing with our personal chauffeur and visited Pura Ulun Danu Bratan, a twinlake, a very impressive waterfall, hot springs and another temple (forgot the name). The next morning it was time for goodbyes as I was going to Kuta and leaving Bali the next day and Nikki & Josje were going to Padangbai. Thanks girls for the great company and for testing out the Jaffles :D
Now that I'm home again it's time to find work and then get my own apartment in Rotterdam. It was fun travelling for a longer period and I'll certainly miss the freedom, the people and the adventures but it's time for a new adventure called a career. I'll probably start blogging about non-travel experiences soon, although some of the upcoming posts will be a more general look at Australia, my travelling through Syria (back in 2008) and the experience of travelling alone. So I won't be offended to much if you unsubscribe.
Photo gallery of Bali & Gili Trawangan